When it comes to booklisting, DSMusic has everything you need.
The complete Classroom Music program for the Secondary School and all the resources and support you need to teach music literacy, aural training, musicianship, theory and analysis for Years 7-12.
Access the DSMusic Booklisting Brochure here.
Access the full DSMusic Pricelist here.
---
Why booklist with DSMusic?
DSMusic has LITERALLY EVERYTHING for the classroom – music literacy, aural training, musicianship, theory, visual & aural analysis, group instrumental work, composition and music technology applications. In addition, all of the planning and preparation has been done for you, everything from curriculum documents and assignments through to practice exams and audio for dictations!
The flagship Musicianship & Aural Training for the Secondary School series are easy to use and are all you need to teach a great music literacy based program — they are the only truly comprehensive range of music education resources that incorporates the highly effective Kodály approach to teaching music. However, they can be used in any music program and class type with no Kodály teacher training necessary.
Student & teacher books are available in digital & hard copy versions plus a huge range of online resources, including lesson plans, worksheets, activities, videos, audio files for dictations, revision sheets, supporting material and much more!
They're adaptable to any Australian or international curriculum, affordable (from $16.95 per student incl. GST) and there is plenty of teacher support, professional development opportunities, online courses and school workshops. When purchasing any book in the series, teachers and students receive a secure digital access code enabling them to access all the related digital resources. Booklisting with DSMusic literally unlocks 100s of resources!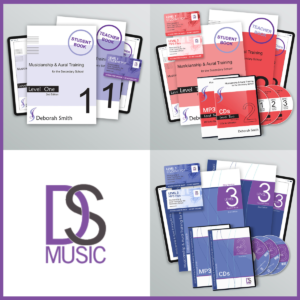 What does DSMusic have to offer?
Beyond the flagship series, there is also Decoding Sound: Music Analysis for the Secondary School, a simplified and engaging approach to music performance analysis. The digital version of this product is fully interactive.
The Music Language Online Courses (MLOCs) offer material that is digital, interactive and accompanied by a wealth of supplemental extras. The MLOC – Analysis Module provides teaching and consolidation through comprehensive videos, handbooks and guides, while the MLOC – Musicianship Module scaffolds progressive practice and skill-strengthening. These courses provide ready-made revision and refining in an engaging, interactive and structured way.
Learn more about what you get with DSMusic content here. Find out how going digital with DSMusic is everything you need, here. Get to know the who, what and how of DSMusic here.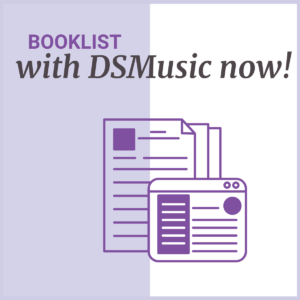 How do I booklist with DSMusic?
1. Find the items you are after on the DSMusic Booksellers Product List (click on the image to the left);
2. Provide that information to whoever is responsible for booklisting at your school – they can send this straight onto booklisting companies and booksellers;
3. When classes roll around, students can activate the items within DSMusic accounts and you can all access digital resources, find more information here.
How do I access the digital resources that come with DSMusic books?
Log into the DSMusic website click the "Resources" tab in the top menu across the home page and choose the Digital Resources Library for your item.
What if I need a specific option to better suit my school?
If you only see your Lower Secondary music classes for a limited amount of time, or are interested in how long students can access certain items across your school's music pathway, get in touch about organising class sets. If finances are an issue, please contact me on deborah@dsmusic.com.au.