Digital Access Codes (also called eBook Access Codes or Unique Access Numbers) are located in the bottom right corner of the title page of your print book or on the back of an access card under a scratch off panel.
If the purchaser of the product is not the intended user, make sure you complete the following steps in the user's DSMusic account.
Log into

the user's

account on the DSMusic website;

Click on "MY ACCOUNT" at the top right of the website home page and then click "DIGITAL ACTIVATION" from the left-hand menu;

Enter the Digital Access Code (8 numbers e.g. 43670003);

Click "SUBMIT"
To access your resources once Digital Activation is complete, see other FAQ for more information or, below:
Log into your account on the DSMusic website;

Click on "MY ACCOUNT" at the top right of the website home page and then click "MY DOWNLOADS" from the left-hand menu;

Scroll down your list of owned products and click "PDF" or "MP3 Files" in the right hand column beside the title of the product you require;

Save the PDF or MP3 files onto your computer and enjoy!
How do I access digital resources that come with my product?
You can view your purchases see the date, status and price info. Accessing your digital content is easy!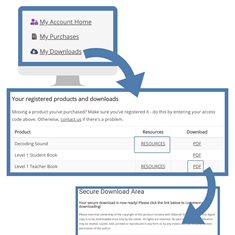 To access/register a digital product, click "My Downloads" from the side-bar menu on the left. Scroll down under the "Resources" column and find your product, click the link to open, download and save the file. For products in the "Download" column, when you scroll down and click the link, it will take you to another page with a secure download link. Simply click this secure link to download and save the file.
Registering a product is easy, too! While you're still hanging out in the "My Downloads" section, simply pop your code in where prompted and hit submit. Once you do this and your product is registered, you'll be able to find it below. We recommend that when you click on a product/resource link that you open this link in a new browser window, particularly if you want to access more than one item.
On a side note, If a product you've purchased is not in this table of downloadable items, make sure you've registered it (like above) first. If you have registered it but the item is still missing, click contact us on the same page and let us know.
Keep making wonderful music – Deb.