Description
The

Level 2 Student Book

includes:
a print copy of the book and/or a PDF of book – downloaded via the website;
13 Preparation Lessons covering all musical concepts taught in the Level 1 books (from beat and pitch through to Major and minor scales)
48 two page written lessons covering musical concepts from scale degrees and tonal names through to triads in inversions and syncopation. Each lesson includes a worksheet with almost 200 theory questions and aural dictation exercises arranged in a sequential order of level of difficulty;
10 revision lessons – 1 for every four to five lessons above (suitable for assessment or homework if required)
Access to the student PDF on the DSMusic website expires two years after purchase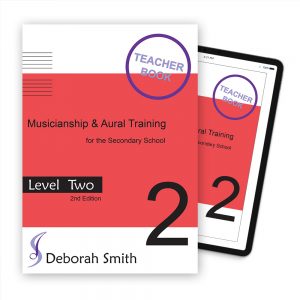 The

Level 2 Teacher Book

includes:
a print copy of the book and/or a PDF of book – downloaded via the website;
access to the HUGE

Level 2 Teacher Digital Resources

(until 31/12/2020). See below for further information;
ALL pages from the student book (with same page numbering) WITH answers to all the questions in the student book;
teacher information section with suggestions, advice and lesson plan outlines to help you set up your curriculum;
each of the 13 preparatory lessons and 48 lessons  has two pages of "Teacher Activities" to support it. These include suggested canons, games, rhythmic and melodic activities, listening activities and IWB/Sibelius activities to help you bring technology into the classroom in a meaningful way;
You never need plan again!
The

Level 2 Teacher Digital Resources

includes:
Videos for teaching concepts in the book;
All Song, Canon and Game material referred to in the Student and Teacher Books;
Creative Assignment sheets (1 per term) dealing with creative tasks, including suggested extension activities for students with advanced musical knowledge;
Written and aural tests (1 per semester) suitable for formal assessment purposes if required;
IWB (Interactive Whiteboard)/Sibelius activities referred to in the Teacher Book set up as worksheets;
Curriculum and assessment documents for planning and reporting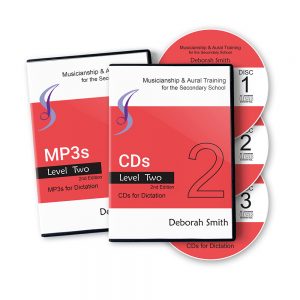 The

CDs for Dictations
and

MP3s for Dictations

:
consist of all audio tracks/files for all transcription and dictation material found in the Level 3 2nd Edition books
For use in the classroom by teachers preparing students for the aural component of Year 11 and 12 studies
Ideal for use by students as a practice / homework / study tool
Buy the CDS through the DSMusic website and receive  automatic access to the MP3 files FREE in your account!
Click HERE to learn how to create an account on DSMusic, how to download your PDF, MP3 files or (for Teachers) how to access your Digital Resources
Sample Pages: