level 3
These Level 3 texts, CDs, MP3 files, PDFs and Digital Resources (Tutorial and Practice Videos, Worksheets, Information Sheets, Notation Files, MP3 Files, Lesson Plans, Practice Activity Charts, Sightreading Sheets etc) include EVERYTHING you need to teach or learn music theory, musicianship and aura skills at a senior secondary level (Years 11 and 12 in most cases).
"Not just a text" these resources allow you to confidently, thoroughly and competently teach your class regardless of individual student standard. The 100s of tutorial and practice videos, worksheets, sightreaading sheets, information sheets, practice sheets, audio files, notation guides and lesson plans allow you to give each and every student in your class the knowledge and practice activities they need to achieve their best.
As a student, you have constant access to teaching and practice videos actually taught by the author, a highly respected expert in this field! The additional information/worksheet type resources, along with the practical revision activities, ensure you always have ways to consolidate any new information and to revise all known concepts.
For specific information about each Level 3 resource, click on the relevant product: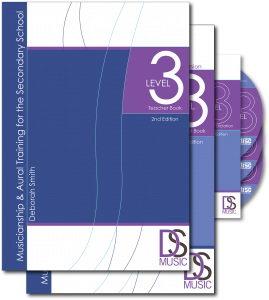 Teacher Book (2nd Ed)
Available as part of the Complete Teacher Resource Pack (includes the Teacher Book, Student Book – Elite Version, CDs for Dictations (2nd Ed), MP3 files for Dictations (2d Ed), fully interactive PDF of the Teacher and Student (Elite) book (see below for more information) PLUS access to all 2nd Edition Level 3 Digital Resources)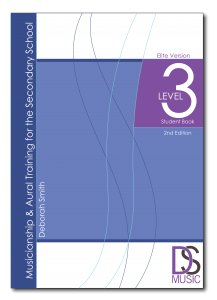 Student Book (2nd Ed) – Elite Version (includes the MP3 Files for Dictations (2nd Ed) PLUS the fully interactive PDF of the book (see below for more information) PLUS access to all 2nd Edition Level 3 Digital Resources)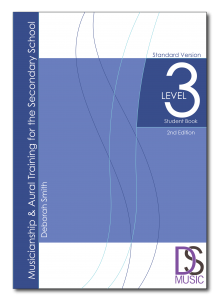 Student Book (2nd Ed) – Standard Version (includes a non-interactive PDF of the book)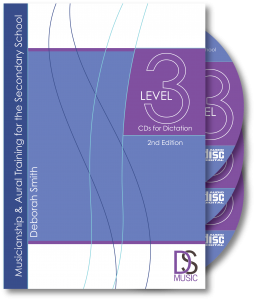 CDs for Dictations (2nd Ed)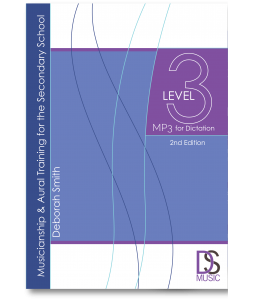 MP3 Files for Dictations (2nd Ed) Downloadable product
Practice Examinations (3rd Ed – due mid 2017) Teacher Book, CDs and MP3 files
(2nd Ed available for sale – click here for more information).
Theory and Aural Practice Teacher Book and CDs (1st Ed)
---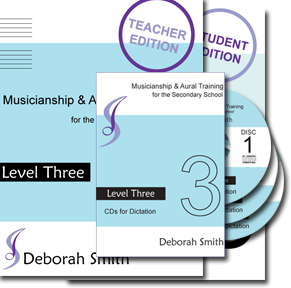 These fantastic texts and set of CDs consist of 96 one, two and three page lessons organised into 16 sections.
Each section has six lessons: one each dealing with rhythm, scales, intervals, melody, chords and chord progressions.
Contains theoretical, analytical and academic explanations of the many concepts dealt with at a Senior music level
Shows how these concepts work in music (useful for analysis)
Contains hundreds of aural transcription and theory exercises given in sequential order of level of difficulty
Although the information in this text has been designed around the skills required for the Victorian Certificate of Education (VCE) Music Performance subject, they apply equally to all other Australian states.
Analysis tasks require a high level of aural and theoretical knowledge and understanding –such as that covered in this comprehensive text.
Level 3 Student Book
Level 3 Teachers Book
CDs for Dictations Level Three
Contains all the dictations found in these text books
For use in the classroom by teachers preparing students for the aural component of their year 11 and 12 music studies
Also ideal for use by students as a practice / homework / study tool
Book Contents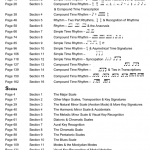 The rhythm lessons in this text contain clear and concise academic information and explanations (with boxed text highlighting the definitions and other important information). Following every new rhythm taught are many rhythmic examples designed for students to perform – helping to cement their understanding of the new rhythmic element. At the end of each lesson is a worksheet with theory and aural transcription exercises beginning with easy simple and compound time rhythms such as crotchets (quarter notes) and quavers (eighth notes) up to very complex rhythms including syncopations, ties, mixed metre etc.
Sample Rhythm page
The scale, interval and melody lessons deal with diatonic, pentatonic, modal, whole tone, chromatic and other scale forms, all diatonic and chromatic intervals and melodies for practicing and transcribing in all taught keys. Worksheets follow each lesson giving visual and aural analysis exercises for recognising the tonality of melodies, writing intervals and interval recognition exercises and practicing the skills required for melodic transcriptions. These melodic transcriptions begin with simple single line dictations and moves in sequential steps to more complex two, three and four part dictations.
Melodic dictation sample

Audio sample: Melodic dictation
The chords and chord progression lessons give students a theoretical and aural understanding of the commonly found chord types (including 7th chords) and teaches students to write and recognise (transcribe) these chords within diatonic chord progressions.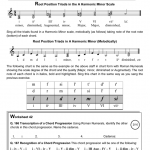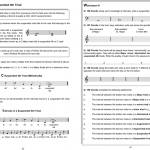 Chord progression sample
A comprehensive appendices section is designed to support the above main sections